It might surprise you that about a decade ago, hundreds of companies were developing virtual reality systems—no games or other software—just the hardware. Venture capitalists were investing only in the hardware.
There are still dozens of companies, but more are entering the field of software development. And that includes online casinos, eager to serve up the latest and greatest experience that only VR can provide.
We've all seen the ads of people wearing what look like hyperthyroid welder's goggles, all grinning at something—and then there's a quick cut to a cartoon-like world that the headset-wearer seems to be the center of.
Welcome to virtual reality. It's a brave new world, so if you need a primer on the metaverse and its accommodations to the online gambling world, check out our virtual reality casino guide. Now let's move onto the question at hand; is VR gambling bad for your eyes?
Save Your Eyes and Gamble Online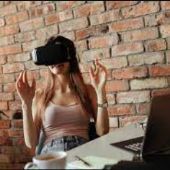 Is VR bad for your eyes? Short answer: Yes, but we'll get to that in a minute.
If you already have a VR system, try a blackjack game or Texas Hold'em. But your eyes will get a table in here; talk about how you don't need to worry about this topic if you do regular online gambling.
Don't rush out to buy a virtual reality system—not if you're looking to use it to enhance your gambling experience.
Ever watch somebody roll a quarter over his knuckles or watch a poker player shuffle chips with one hand? Quite fascinating at first, but the novelty of it wears off quickly.
That's VR in the gambling world. Sure, virtual reality greatly enhances role-playing games like Skyrim, Call of Duty, and Fallout 76, but playing a slot machine or even table games like blackjack or roulette are far less improved with the addition of a cartoon universe.
Important
Besides, very few online gambling venues offer the VR experience, making spending anywhere from $400 to $1200 on one of the top three PC-based VR systems a tad too expensive.
Particularly when most of what you can do is wander around a cartoon world by yourself, occasionally playing blackjack… by yourself. Not to put too fine a point on it, but you could do that alone. You could do that right now at one of our best online casinos.
I'll dig deeper into the debate as to whether virtual reality is bad for your eyes. However, if you're ready to put the VR headset down and gamble online right now, consider the following options.
How Bad Is VR Gambling for Your Eyes?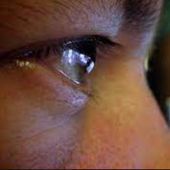 Virtual reality's actual results are the increased incidence of eye fatigue and strain reported in various tests.
The main component of a VR system is the headset, and people using VR headsets report both eye strain and eye fatigue in very high numbers.
That's because consumer-level VR headsets like the Oculus series from Meta (the megacorp formerly known as Facebook) present a small field of vision (89 degrees vs. the human eye's natural 140 degrees of binocular vision).
You might think wiping out your peripheral vision is no big deal, but you can't duck what you can't see.
Still, that's more a problem in RPG games rather than gambling, where the most you need to duck is a strenuously dealt card.
This difference in vision forces the brain to struggle as it attempts to interpret the less-than-normal information your eyes are giving it.
Meanwhile, the brain discerns problems with the information, so it demands the eyes work harder to determine exactly where the virtual things are in the virtual environment.
The question at this point is not "Is VR bad for your eyes?" but rather "How bad is VR for your eyes?"
Other Risks of Gambling in Virtual Reality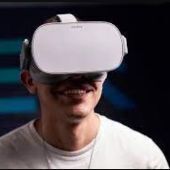 Are there risks of VR gambling?
Since VR is still in its first-adopter stage (too expensive for mass marketing but still finding a small base of users—about 8% of American households), it isn't easy to arrive at any real conclusions.
Still, some studies indicate that people who game using VR have an increased tendency to continue playing. This is in addition to the somewhat addictive nature of console gaming in general. They've even got a name for it (don't they always?): Cybersickness.
Cybersickness is a combination of various maladies and syndromes, but it has a common source—the use of virtual reality systems.
VIMS
One of the primary components of cybersickness is Visually Induced Motion Sickness (VIMS), resulting from a conflict between the visual and the vestibular systems.
In plain talk, your eyes tell your brain you are moving, and your brain tells your sense of balance to adjust to that motion.
Since you're not moving as your eyes perceive, your sense of balance is confounded and may result in tripping, falling, or even what researchers coyly refer to as an "emetic response" (barfing, in simple terms).
Anyone who's ever stood up while playing Skyrim or Call of Duty has felt the odd need to lean or move about what your character is doing onscreen (even though we are standing relatively motionless in our chair).
Your brain believes whatever the eyes tell it, and with virtual reality, your eyes lie.
Eyes Strain & Eye Fatigue
Is VR bad for your eyes? In addition to deceiving your brain, your eyes also wind up straining themselves due to following the action on the screens an inch away from them. Virtual Reality systems require us to use our eyes physically in ways not typical of standard everyday living.
This can fatigue the eye muscles and even strain them painfully if that uncommon muscle usage continues too long.
There's also a psychological problem with VR and one that pertains entirely to gamblers: misinterpretation of tells.
A game of Texas Hold'em in virtual reality is identical to one played in a standard online poker room. The problem here is that your eye perceives the motions of the cartoon characters around the table as real beings.
Sure, you can convince yourself intellectually that the gorilla wearing the beer hat across the table from you is just a cartoon; your subconscious may readily be interpreting the nervousness of the gorilla's actions as an indication that he has a weak hand.
Perks of Gambling in Virtual Reality
One of the benefits of gambling in virtual reality is a complete immersion into the virtual world. Distractions are minimized, and your virtual surroundings can convince you that you are, in fact, in Monte -Carlo, waiting for your martini (shaken, not stirred, of course).
As the virtual reality world becomes more lifelike, you can bet there will be even better reasons to try VR.
VR has about as much chance of destroying the nation's youth as Elvis Presley did in the early 60s. Sure he rocked and rolled, but his fans grew up to be responsible adults (mostly) just as they have since time immemorial.


Is virtual reality gambling risky?
No more than regular gambling, as far as your bankroll is concerned.
Sure, you might want to rest your eyes more often, but you may find yourself drifting back to a screen filled with poker tables. Chatting with animated characters more interested in entertaining than in playing cards can get wearisome rather quickly.
Right now, opportunities to gamble in a virtual reality environment are rare, and even those limited the experience of walking around a virtual world alone.
Since many people are excited about the opportunity to interact with others in a virtual world, the limitations of current technology on VR gambling are stifling.
Deciding if Gambling in VR is Bad for Your Eyes (and Your Wallet)
Virtual Reality systems are far too new and untested on a wide scale for anyone to reasonably agree that VR is bad, or is good, or (like money) morally neutral.
Still, that's enough for the scolds to blame all the maladies and ills of the culture on VR—which they used to blame on video games, rock music, the atom bomb, reefer madness, burlesque, jazz, and even the Viennese Waltz, for crying out loud.
Is VR gambling risky?
The reality is this: What is scandalous today is commonplace tomorrow and boring the day after.
And while virtual reality may become the future equivalent of the ubiquitous gaming console, gambling—particularly poker –won't see much of a change.
Still, accurately predicting the future isn't one of my best characteristics (unlike my wit, charm, and good looks).
Want to learn more about the VR realm and how it relates to gambling? Here are a couple of our in-depth looks at the metaverse in the online gambling world.