Join Our Telegram channel to stay up to date on breaking news coverage
Trust Wallet (TWT) was regarded as one of the leading cryptocurrencies that had experienced significant growth in recent days. In just 30 days, Trust Wallet Token (TWT) outperforms the cryptocurrency market by more than 83 percent. Following the FTX collapse and market downturn, the TWT token hit an all-time high of $2.54, representing a gain of more than 100%.
Simply put, the market slump and FTX collapse had no negative impact on the TWT price, but the FTX collapse had a positive impact on the TWT price. The reason could be related to Binance CEO Changpeng Zhao's positive statements. CZ, Binance's CEO, tweeted about the Trust Wallet app, emphasizing the benefits of storing bitcoin in a Trust Wallet rather than a centralized exchange.
Following the #FTX implosion & market downtrend, the $TWT token hit an ATH of $2.54 with over 100%+ gains.@TrustWallet is growing day by day after the recent integration of #Binance Pay & #Coinbase Pay. #TWT is a utility token to incentivize all #Trustwallet users.

— Elite Crypto (@TheEliteCrypto) November 21, 2022
This enabled Trust Wallet (TWT) to maintain its upward trend and attract additional bids. On the other hand, the recent market recovery and the massive decline in the US dollar have both been major factors supporting the Trust Wallet (TWT) currency. Moving on, "whales" in the cryptocurrency industry predict that the TWT coin will grow even more by 2023.
The US dollar has saw its greatest monthly drop in almost a decade (since Sept. 2010) $USD

November saw a -5.06% decline in $DXY.

Just as the uptrend was beginning, the 200 dma entered to assist set the monthly bottom, the US dollar's first interaction there since June 2021. pic.twitter.com/A8jYYUMhP9

— Katie Hamilton 🌸 (@hamiltonkatie96) December 1, 2022
The current live Trust Wallet Token price is $2.35, with a 24-hour trading volume of $116 million. Trust Wallet Token increased by over 19% on the last day.

TWT is currently ranked #44 on the market and has a market capitalization of $974,184,319 in real-time. It has a circulating supply of 416,649,900 TWT coins and a maximum supply of 1,000,000,000 TWT coins.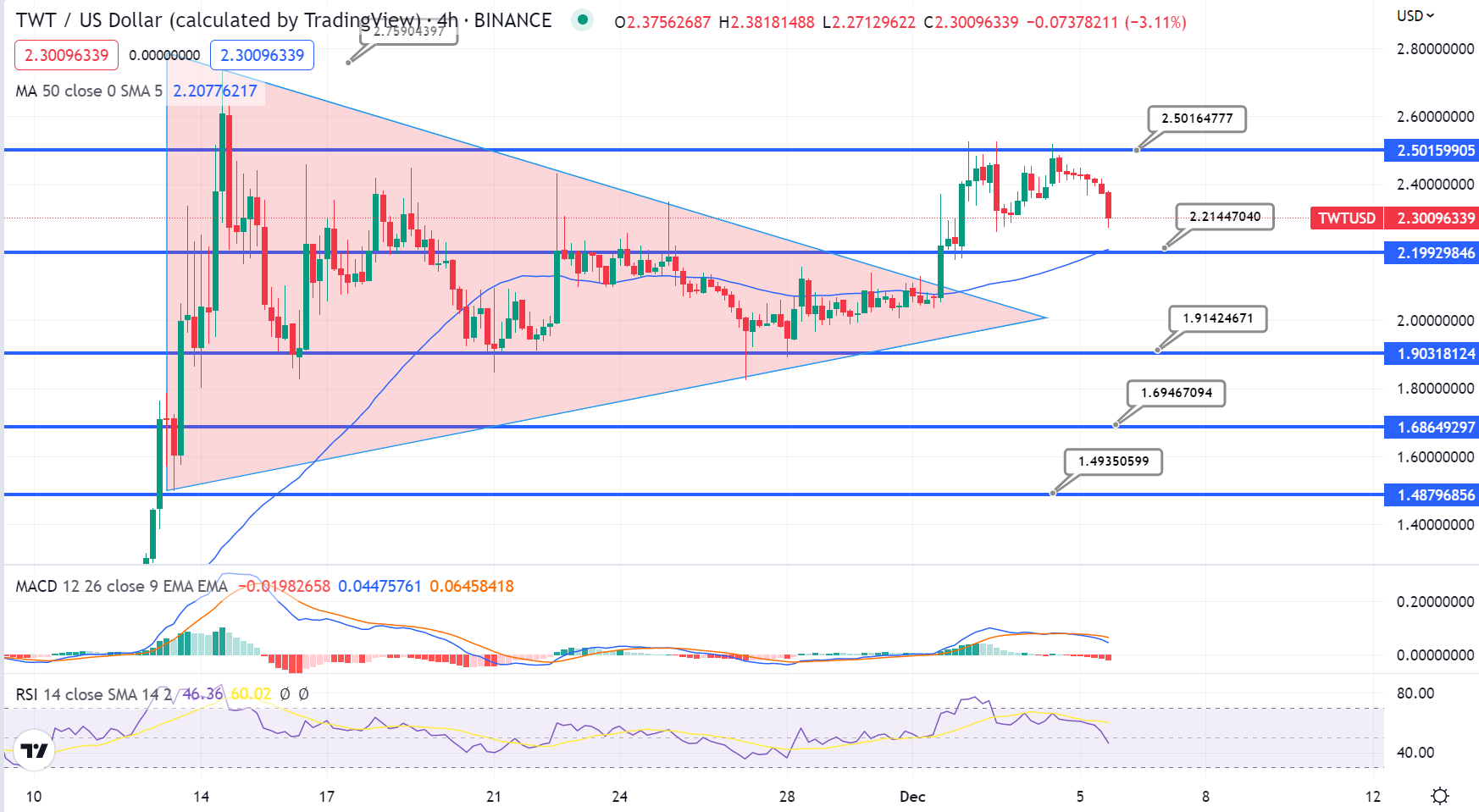 CEO of Binance, CZ Emphasized the Trust Wallet
As a result of FTX's demise, investors are abandoning exchanges in favor of non-custodial wallets. One wallet, in particular, appears to be doing well, as does the associated token. TWT, the native token powering Trust wallet, a self-custodial cryptocurrency wallet, has increased by 83% in the last 30 days, according to coinmarketcap statistics.
The Trust Wallet Token experienced an increase after the most powerful figure in cryptocurrency, Changpeng Zhao, publicly endorsed the token (TWT).
👇 4) #Trust Wallet Token rallied +12% last 1w as CZ tweeted about the importance of crypto self-custody and encouraged people to use the protocol's Trust Wallet. With the losses from FTX's collapse still fresh, many investors are turning to self-custody solutions. Mkt cap $930m;

— Markus Thielen (@DeFiOnTarget) November 25, 2022
Changpeng Zhao, the CEO of Binance and a crypto billionaire, tweeted about the value of self-custody and urged people to adopt the Trust wallet, which fueled the token's uptrend. Also, it's important to know that Binance bought Trust Wallet in 2018.
Moderate Growth in the Crypto Market
The global cryptocurrency market has been having a difficult time lately, but it has managed to reverse its downward trend and stage a little recovery during the previous few sessions. The prices of the two most valuable cryptocurrencies, Bitcoin (BTC) and Ethereum (ETH), have topped $17,000 and $1,200, respectively.
In the meantime, the EthereumPoW (ETHW) token was the greatest gainer, rising by more than 20% in only one day. However, it was believed that another significant element supporting the Trust Wallet (TWT) coin was the recovering crypto market. The dovish remarks made by Fed Chair Jerome Powell, which point to a slowing in the rate of interest rate increases, could be the reason for the bullish market mood.
JUST IN: Bitcoin price quickly pushed above the $17,000 level and major US stock indices exploded higher on the heels of some of the most dovish remarks by Fed Chair Jerome Powell in nearly a year.

— Elvis Ndzi (@ndzi_elvis) December 1, 2022
It should be emphasized that the markets now expect the Fed to raise rates by 50 basis points at its forthcoming meeting, with a 20% probability that rates would increase by another 75 basis points.
Bearish US Dollar
The weaker US dollar played an important role in keeping the Trust Wallet (TWT) token's price stable. The Federal Reserve's recent shift toward a more dovish stance has had little effect on the value of the US dollar, which has been underperforming recently. The broad-based US dollar fell to a three-month low after Fed Chair Jerome Powell hinted that rate hikes in the US could be slowed as early as December.
The dollar weakened to three month-lows against the yen and the pound on Thursday, after comments by Fed Chair Jerome Powell that U.S. rate hikes could be scaled back "as soon as December", but the euro failed to climb past a major resistance level.

— Partap Singh (@PartapS81570453) December 2, 2022
These Crypto Coins are Expected to Pump 55x by 2024
It could be challenging to decide which cryptocurrency to invest in given the variety available. Many investors at some point think about supporting low-cost cryptocurrency startups. These digital coins, with a token value of $5 or less, can be a great addition to most portfolios.
The currencies listed below are fantastic additions to our portfolio despite a slowdown in the cryptocurrency sector.
Dash 2 Trade (D2T)
Dash 2 Trade has the potential to become the next well-known cryptocurrency in the unpredictable world of cryptocurrencies because of its novel idea. It is a relatively new cryptocurrency firm with a useful function that few others can match. With the use of its own D2T token, Dash 2 Trading provides several trading services.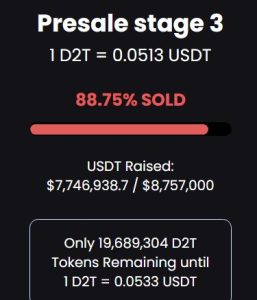 The D2T ERC-20 token is used as the native coin of the Dash 2 Trade social trading and analytics platform. Dash 2 Trade offers distinctive trading signals that recommend profitable trading strategies by taking into account both social and technical elements.
"Dash 2 Trade" Dash 2 Trade is designed to take your crypto trading to the next level. From creating and testing trading strategies to tracking the latest news … – ICO Listed by ⭐ https://t.co/35loIRqbz5 Community Member #ICO #Bitcoin… https://t.co/fOsPC2Ig9N pic.twitter.com/8kQ0LRHeLE

— ICOLINK.COM (@ICOLINKcom) December 2, 2022
The presale of this coin started in the middle of October and raised $500,000 on the first day, bringing the total amount raised to $1 million. Dash 2 Trade, a platform for crypto analytics and signaling, has recently surpassed the $7.5 million milestone during the pre-sale, over seven weeks after it began. Investors who want to participate must act quickly as the pre-sale is about to enter its fourth and last phase.
Dash 2 Trade presale hits $7.5 millionhttps://t.co/RJVK5gW6BY#TechnologyNews pic.twitter.com/ox9jmlSfTj

— NowMyNews (@NowMyNews) December 2, 2022
Moreover, Dash 2 Trade offers superior technical indicators for professionals, including trade book data and linear regressions, to support their risk management and decision-making. Dash 2 Trade's whitepaper states that in order to ensure investor confidence in potential projects, the platform would also evaluate new cryptocurrency presale activities on a number of different criteria.
These tokens have already attracted more than 70,000 investors who purchased them during the continuing D2T token presale. This coin's third pre-sale has started, and 1 D2T token is presently offered for 0.0513 USDT. At that time, pre-sale sales exceeded $7.5 million.
Tora Inu (TORA):
Tora Inu has a number of P2E games planned in addition to a potential metaverse integration where users might compete with their Tora Inu NFTs for more TORA. The Tora will expand with you in the metaverse, and as it gets stronger, it will be able to give you bigger rewards. You might give it food, take it on a stroll, or even bring it to the gym with you.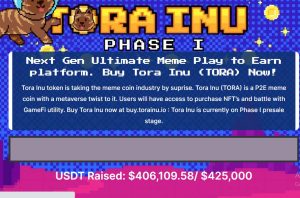 The project, which is now holding a presale, intends to outperform its rivals and become the most fascinating one in 2023.
The project is built around excellent tokenomics, which includes a burn and redistribution mechanism to make the token deflationary. Thereby, the TORA token will appreciate in value as more transactions are made possible via the blockchain. The redistribution implies that token holders who retain them in their own hands will receive rewards for keeping them for a long time.
Tora Inu roadmap Shows Good News For The Meme Coin https://t.co/CTQSQa1eRu

— Forex Trading & Cryptocurrency Strategies (@OkunlolaO) December 2, 2022
The project will launch a P2E game that will let players make money while engaging with the ecosystem, giving it an advantage over other projects in this area. In addition, NFTs will be included in the game to let players compete against one another and win tokens as a prize.
The TORA governance token, which enables users to decide how the project will develop moving forward, may be used to buy the NFTs on the platform.
The Future #Memecoin is Here! 🚀
Grab your free #NFT on #opensea to be eligible for #Airdrop !

Here ! 😍https://t.co/WcgBp1T90t

Deflationary rewards meme token, P2E NFT game and metaverse ! pic.twitter.com/C0HcstegjI

— Tora inu (@Torainunfts) December 1, 2022
Besides, the debut of Tora Inu's metaverse, which will allow users to communicate with one another in virtual reality, is planned for later on the roadmap. The Tora Inu team will also host other metaverse regions and adverts to let more money flow through the ecosystem, rewarding holders with buybacks and redistribution fees.
Calvaria (RIA)
A brand-new cryptocurrency project called Calvaria is based on play-to-earn strategies. The purpose of the project is to create a fantastic card game of war that is based on video games like Magic the Gathering in order to improve public acceptance of cryptocurrencies. The platform aims to succeed by attempting to close the gap between the physical world and cryptocurrency.
Calvaria enables investors to stake RIA tokens. Locking up the coins means that investors consider Calvaria to be a long-term crypto project that provides daily rewards. That provides investors with passive income.

— cindy (@cryptocindys) November 29, 2022
It is now possible for the general public to participate in stage 5 of the RIA presale. Out of a total of $3,075,000 USDT, Calvaria has raised $2,137,934 USDT. Those who are interested in cryptocurrencies and play for profit have responded well to USDT.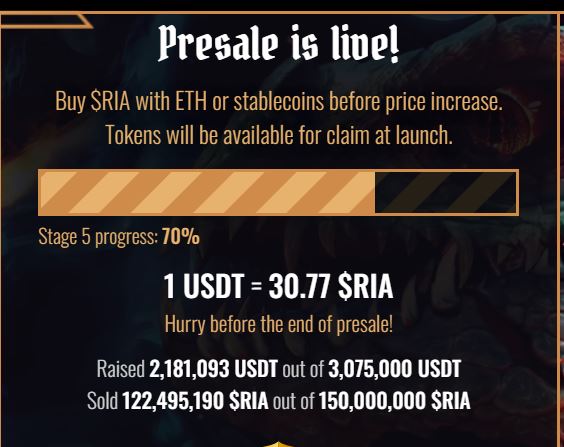 These figures show the sale of 121 million RIA tokens. Nearly 70% of this peer-to-peer cryptocurrency company's Stage 5 presale has already been sold. 1 USDT was equivalent to 33.33 RIA at the time of publication.
Tamadoge TAMA
The following fairly priced cryptocurrency for 2023 is named tamadoge. The Tamaberse platform, which enables users to produce and breed virtual animals, accepts it as a valid method of payment. After that, you may engage in user battles to advance on the TAMA leaderboards and earn rewards each month.
Look at $TAMA (Tamadoge). Soon will explode. Belive me is worth buy at least for $50 and wait for bullrun soon 🚀

— Matej Florijan (@MatejFlorijan) December 2, 2022
The popularity of TAMA among cryptocurrency fans is growing as a result of its broad trading on various platforms and great reliability and potential. The possible deflationary aspect of a cryptocurrency like this one, which indicates that it could eventually decrease the amount now accessible, is one of its most notable features.
Get Your Hands One Of The Most Hyped #Memecoins Of All Time!😎

Join The Club! Buy $TAMA NOW On @OKX🏃https://t.co/eCOwGb8bRD#memecoin #tamadodge #crypto pic.twitter.com/eqq9Ss5i3L

— TAMADOGE (@Tamadogecoin) November 30, 2022
The current live Tamadoge price is $0.019842 with a $975,499 USD 24-hour trading volume. In the past 24 hours, Tamadoge has increased by 1.30%. Tamadoge's live market cap is not available, and its current market ranking is #2746. There is no available circulating supply and a maximum of 2,000,000,000 TAMA coins.
Related:
Dash 2 Trade – High Potential Presale
Active Presale Live Now – dash2trade.com
Native Token of Crypto Signals Ecosystem
KYC Verified & Audited
Join Our Telegram channel to stay up to date on breaking news coverage